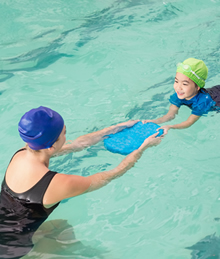 Fully Qualified & Experienced!
Swim Stars instructors are trained to be able to provide excellent classes that involve learning new skills and having fun too!
The teachers for our classes are all qualified swimming teachers with years of experience in teaching both group and private lessons. All the teachers have done an additional qualification in baby/toddler swimming.

So although they are teaching baby/toddler classes
they are aware of the bigger picture where eventually the baby/toddler will be learning to swim with proper strokes and leg kick.

All the teachers have taught beginners of 5/6 years and understand how difficult it can be for these children when they have never had water experience so the chance you are giving your children is wonderful and they will excell when they go on to do formal lessons and school swimming.
ROLE OF AN INSTRUCTOR
There are important qualities a swimming instructor must have:
Excellent knowledge
of children and adults and the approaches needed to relate to them when they are learning a new skill.
Professionalism and understanding
in dealing with parents of the children
Swimming should be taught through proper education and discipline, not with trauma. A
kind manner
is essential to keep swimmers at ease as trust is a huge issue with swimming, so the instructor should have this quality.
Patience
is an extremely important quality an instructor must have. Everyone learns a new skill at their own pace and needs encouragement if they are finding a skill difficult.