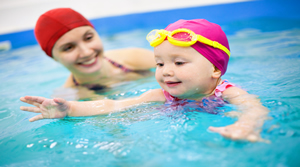 private lessons - children
Fun, professional one to one lessons for your child
We provide private swimming lessons for children of all ages and abilities. Our instructors are very patient and friendly, ensuring children are relaxed and enjoy their swimming lesson.
You may feel your child needs a bit of extra attention as they may be nervous, require additional teaching on a particular stroke or skill, or would like some coaching to improve their personal best.
We also understand that there are children who also just respond better to private teaching.
We provide lessons that suit your schedule and needs. Contact us for more information
Private Lessons - adults
It is all about the confidence! Are you a non swimming adult who would very much like to join in the fun on holidays in the pool or the sea but you are too nervous to even think about joining a class to learn to swim?
Before joining a group class perhaps you should have a few private lessons. Private swimming lessons can be geared towards people who may be extremely nervous in the water. The teacher will be right there with you to give you confidence.
With gentle encouragement you will be amazed at your progress. All our teachers are very experienced and have endless patience. The lesson is all about you and your needs.
Each lesson lasts 45 minutes.
Personal lessons are not just for nervous beginners. Maybe you can swim but want some one to one lessons to
improve stroke and therefore stamina?
Breathing on front crawl
is a favourite request. Even if you can swim adequately you may not be confident in the deep end. Would you like to learn to
tread water and swim out of your depth with confidence?
We can help you.
Have you decided you would like to do a triathlon?
Your running and cycling may be ok but the swimming may let you down. We can whip you into shape. You will be coached by an ex competitive swimmer and the concentration will be on stroke improvement and stamina building which will include timed swims. You will be given advice on pacing yourself and a few other little tricks.
We are happy to help whatever your swimming requirements.